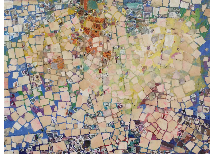 Works on paper:
· Working on paper allows me to react in a direct way, much like writing in a diary. In my mixed media works I often use collaged pieces of my own artworks that are thick with acrylic paint, pencil, and crayon to create a richly textured visual surface. Within this surface are found the discovery, exploration, and free associations that comprise my artistic vision.
· My Urban Visualizations are imbued with a sense of place that spans across the specifics of time and location. I have been culling through and revisiting my older artworks: tearing, reassembling, and layering the torn fragments of my visual stories into new images; and have unleashed a deep well of artistic resources—both physical and conceptual.
· My drawings of musical instruments, my Colorsong book and my Finding the Song series express my deep attachment to the transformations of sound and text into visual imagery.
Frocks:
· My Frocks are painted, fabric assemblages—each one a portrait-like presence.